Get to Know: Full Halloween Animated Prop Blog Range
Each passing second brings us closer to Halloween, the most wonderfully mysterious time of the year! Underneath Autumns golden gown of light leaves us with myriads of fun and preparation for the new rendition of Halloween for us all to blow out of the water with our impressive Halloween displays, costumes, parties and our events this year!
But maybe you're thinking that your Halloween preparation is missing something, something that could give an extra great and spooky feeling to the night of the dead… Maybe it's time you give life to your dead party or house with these super incredibly creepy Halloween Animatronics from I Love Fancy Dress!
Just see the video above and check the descriptions below to see how such a decently sized moving decoration can have such a big impact on your display this year! Starting it off in no particular order once again:
Number #8 – The Hanging Scarecrow on a Swing Animated Decoration
Can you hear it? The unnerving sound a consistent creaky swing rocking back and forth complimented by the sound of malicious cackled laughter? The sinister playful noise of legs kicking back and forth like an innocent kid enjoying himself in the park paired with red piercing eyes, now that's one spooky decoration! That'll be sure to frighten anything that comes near your house! Make any sort of noise or speak at a volume no louder than a low roar to set off the bag of bones and straw scarecrow and you'll petrify anyone who encounters this excellent Halloween prop!
Number #7 – Light up Hanging Clown Animated Decoration
Everyone that comes around these parts floats down here too… Float with fear that is! Send your friends and anyone who comes to visit your door or party flying back with screams and a pale face with this very unsettling Hanging Clown Animatronic! Fill the air with laughter good and bad and make sure they rival the screams of the people who walk on past with this amazing animated decoration! Just hang it by its head and it's ready to go, when someone walks up to the door this will set off the Killer Clown and give them a scare they won't forget with this spooky pale blue light up eyes and skin crawling sound effects! If your interested in learning more about how the clown works, click the link below for more information!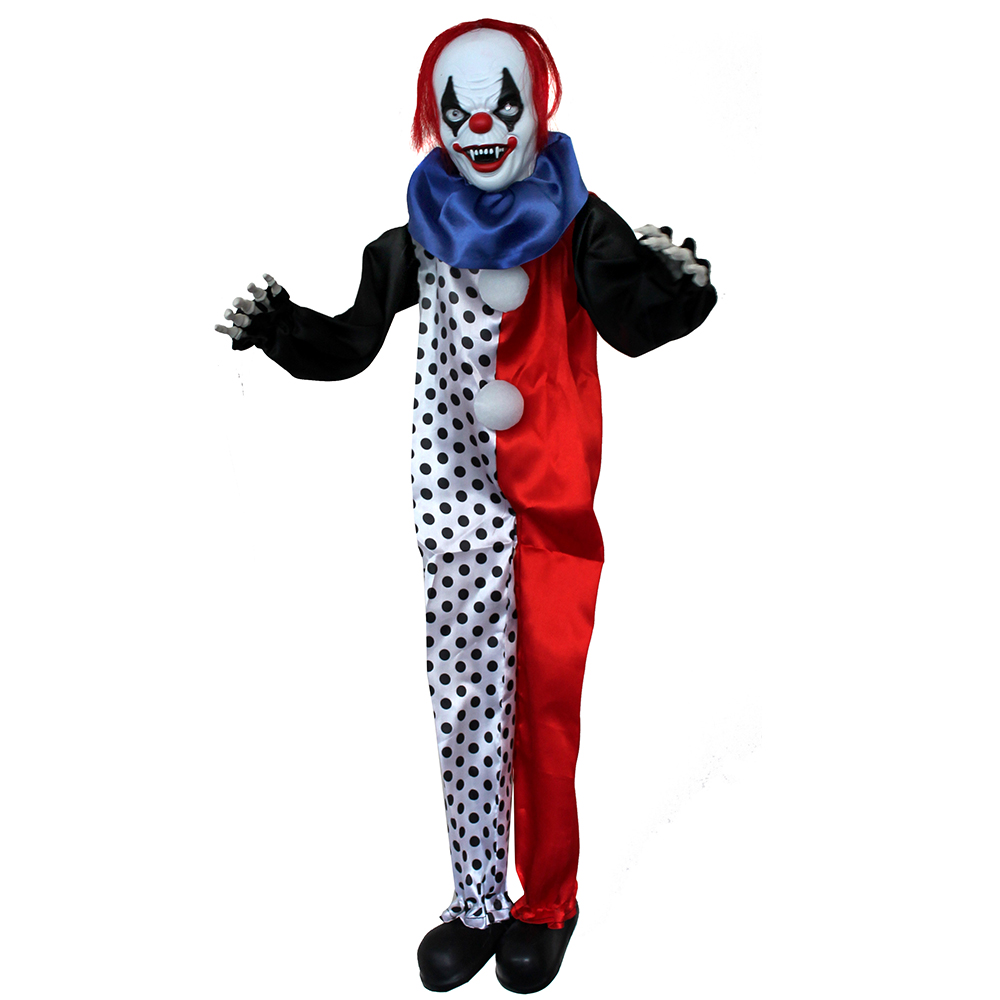 Number #6 – Hanging Crazy Clown Animated Decoration
You wouldn't want to be hanging around for long around this big guy when he gets mad… lucky for you he'll be stuck there hanging for the rest of his days! It's the Hanging crazed clown decoration that can make a real impression at the parties and out the front of your house! With it's horrifying sporadic leg kicking frantically and disjointed circus music to really spike the fear factor into the hearts of anyone who was loud enough to set the guy off! For size and more information about the decoration, you can find it through our website page here!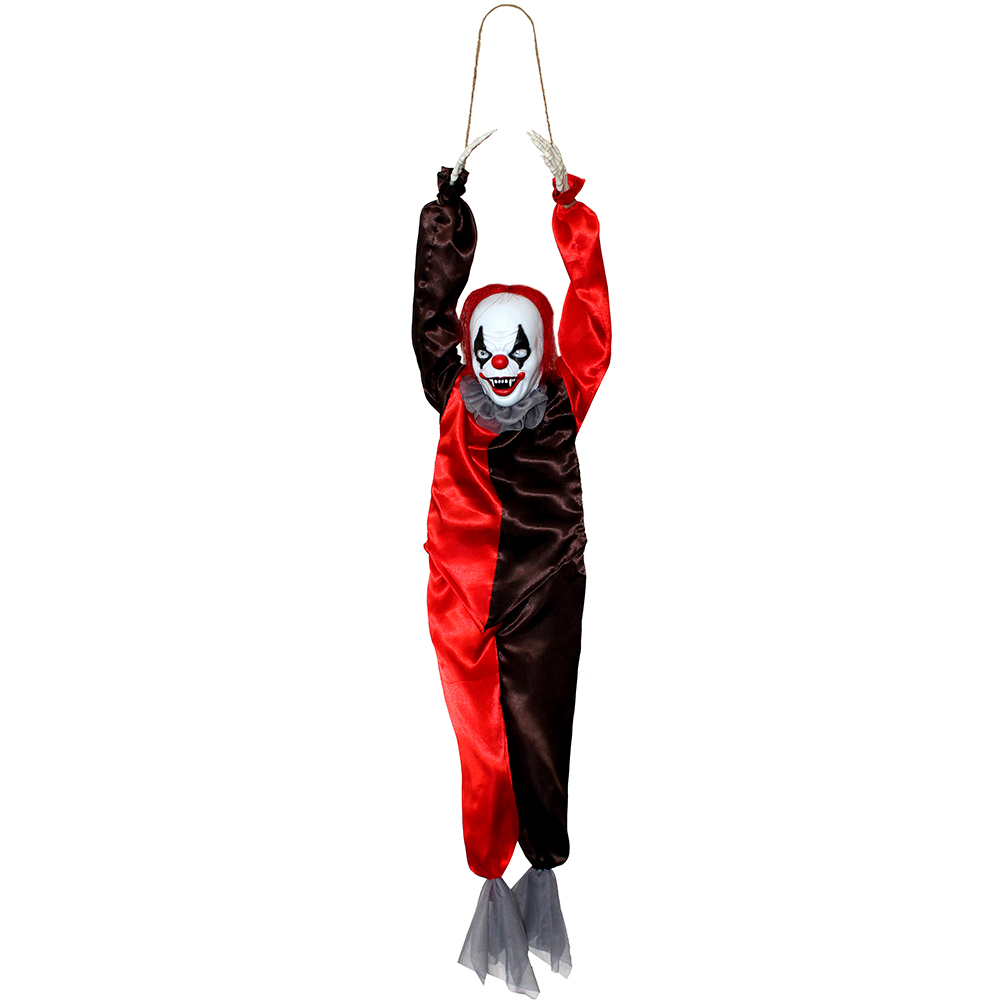 Number #5 – Hanging Zombie Animatronic Decoration
We all get a little hungry from time to time but nowhere near as hungry as this guy is, and October's the month he comes out for brains! With this Hanging Zombie Animated Decoration, you'll be able to give a classic fright into the hearts of the youngsters and adults who walk past your house on the night of the dead, or just use it for a creative decoration for Halloween nightclubs or house parties! Either way the air will be brimming loudly with the sound of this hungry chap mindlessly moaning and groaning for some food and brains!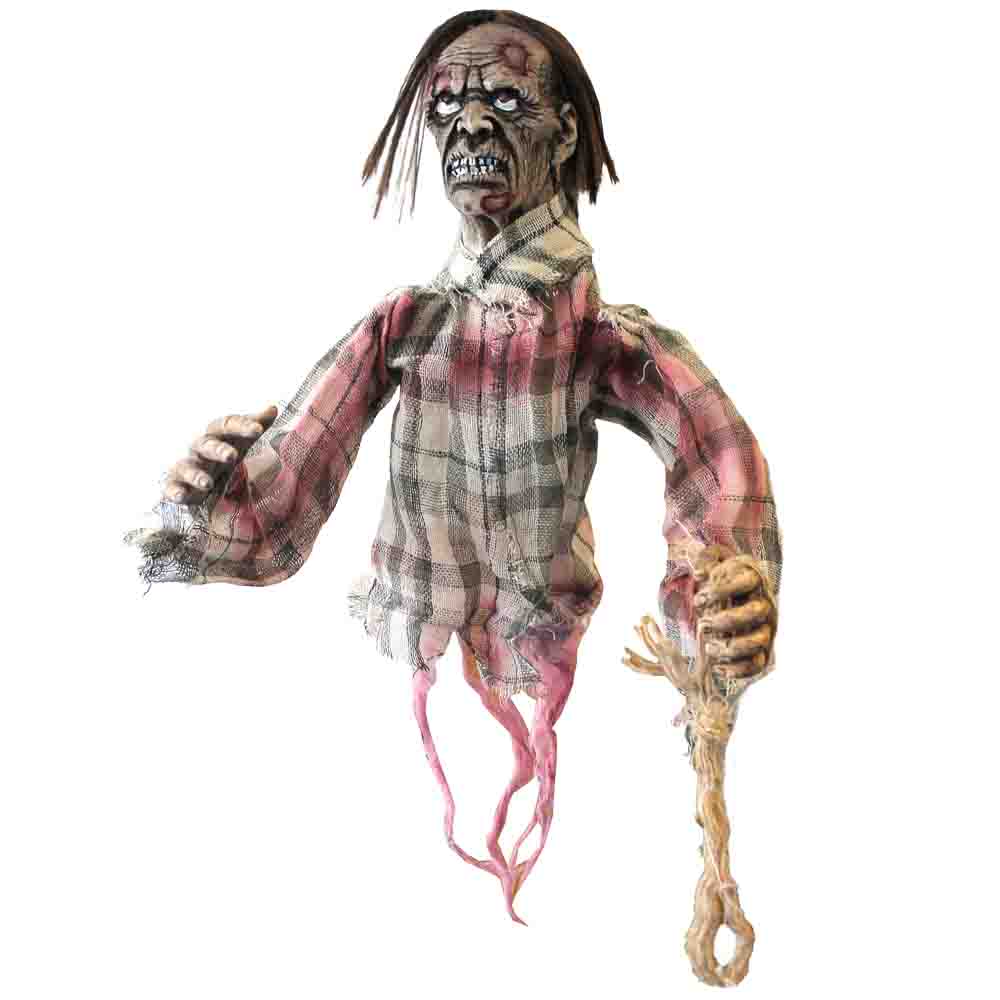 Number #4 – Hanging Ghastly Ghoul Animatronic Decoration
Whilst all the other props up to this point have been a fun and spooky way to scare people and enjoy yourselves, this Ghoul animated decoration bumps up the bar for pure terror on a MASSIVE scale, this pure evil looking hanging phantasm shackled up forever in the chains that bind his arms rattling away with haunting shrieks and his sharp needle-like crimson eyes ripping through the air, striking absolute fear into your soul through glassy, frightened eyes!
This Ghoul decoration is the one for you if you're looking to set up an extremely impressive and heart stopping display this Halloween! The image doesn't quite do this animatronic justice at all, for more information about this decoration, check out it's page along with the rest of them! – (insert link to product here)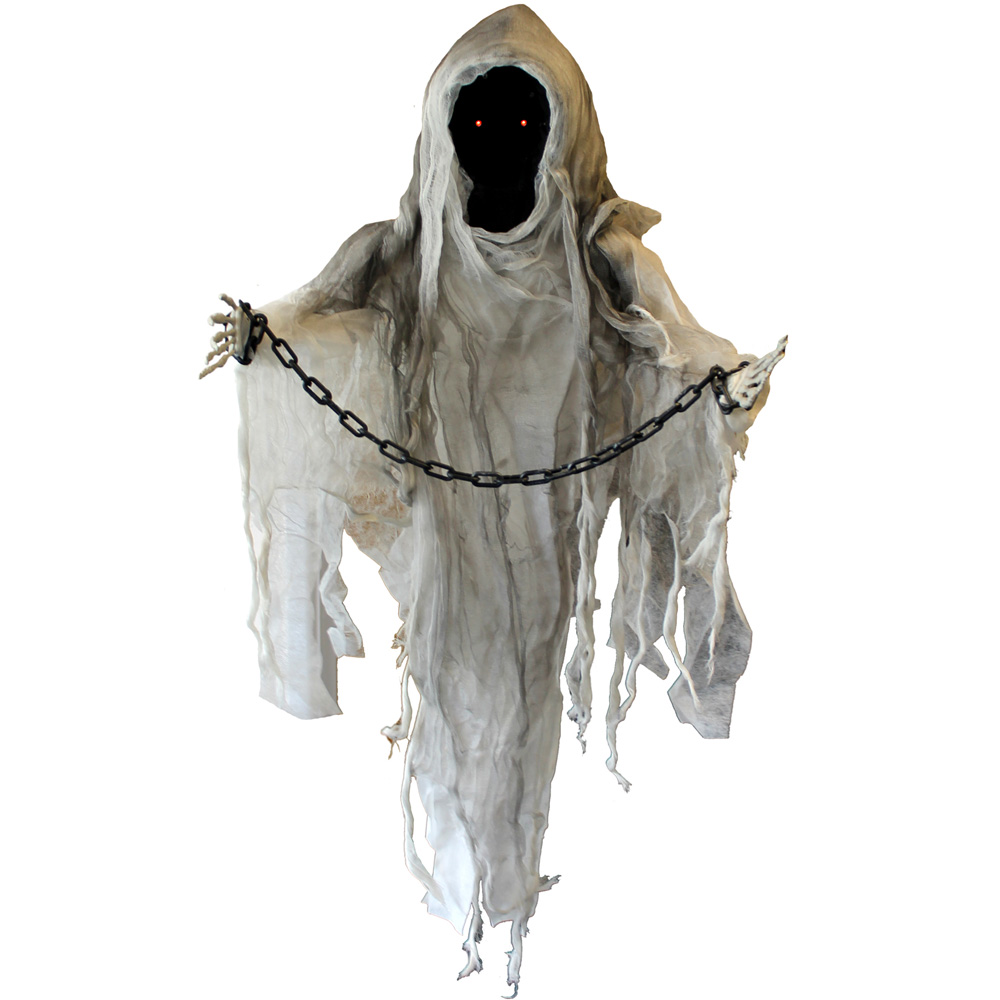 Number #3 – Crawling Zombie Animated Decoration
Get your friends running away from this ankle biting creature of the dark, this Crawling Zombie Animated Decoration is sure to send the passer-by's flying away running for their life when they see this shrieking noise activated defiled monster writhing in agony up the pavement or pathways to the houses! Another seriously fun prop to use this Halloween for the entertainment of everyone around on the night of the dead! With it's moving arms, head and grunting noises of anguish in dire need of food, this will surely satisfy all Halloween needs this year for your local visitors!
Number #2 -Hanging Reaper Animated Decoration
We had the fun and exciting that everyone can enjoy, but now here's another great screamer of a product like the Ghastly Ghoul earlier, this is for people who are looking for a fantastic reaction out of their visitors this Hallows Eve! With this huge 3FT Reaper animatronic decoration, this will really beat that looming sense of evil into people's heads!
A giant skeleton veiled in night black with tattered fallen wings alongside the echoed screams of this cursed reanimated angel really will strike a chord inside people's hearts to scare them super bad when they accidentally noise activate this reaper decoration this fall! If you like what you see and know you need it for this year, then why not see the Reapers page for more information about the decoration! – (Insert link here)
Number #1 – Hanging 5ft long Bat Animated Decoration
Finally, to finish this collection, you can't go wrong with something as classic as the spooky Halloween themed Bat to hang over your front garden or decorate your house parties with. Spanning over a huge 5FT WIDE distance with a moving head, flapping wings and bat sound effects, this is the perfect edition to have for your Halloween this year no matter what style you're going for!
Give a few kids a good spook and wow the rest with your incredible wide display! On show for the whole street and party or nightclub to see and gaze with excitement and glee, feeling the real Halloween Spirit through their hearts! If you're interested in this amazing Animatronic Bat decoration and want to know more about it, click here to view its page! – (insert page link here)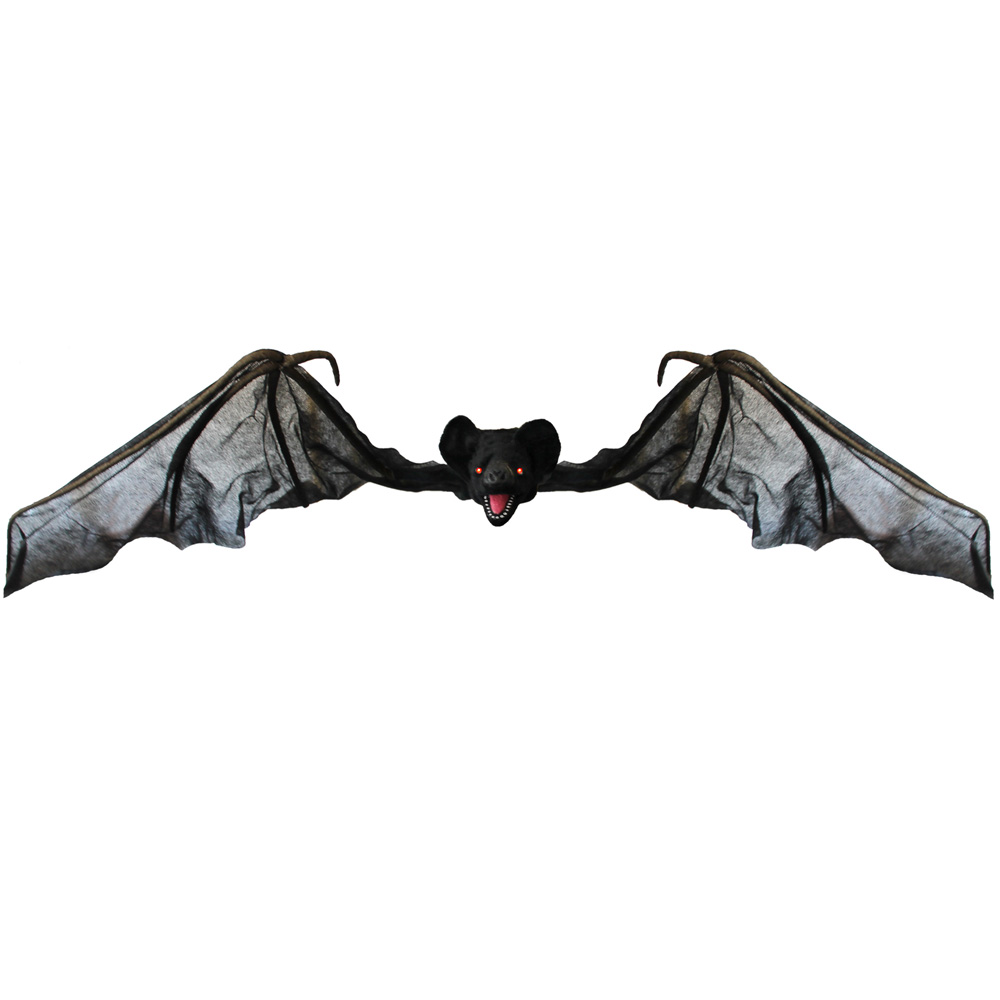 Now that you've all had a look at our selection of great and spooky decorations, we hope we've given you a great idea of how spooky and great you can make your Halloween be this year! You can Immortalize your Halloween forever by sending us your pictures to our social media accounts and we'll share your photos with full credit for our pleasure to see you having fun with our decorations! You can find the links below!
If you enjoyed reading this blog, then maybe you'd also enjoy reading our other blog, the Top 10 Halloween Costumes for Men and Women blog we made! Get those Halloween wheels spinning in your head with I Love Fancy Dress!
Twitter – @ILOVEFANCYDRESS
Instagram - @ilovefancydress
Facebook – I love fancy dress