Get to Know:Top 5 Girls Halloween Costumes!
To all you little princesses out there, Halloween is the time of year when you can be whatever you want whether that to remain a pretty little princess or create havoc as a gruesome creature! We are certain many of you parents are preparing to be taken to the streets as your little ones fill their bags with sweets and chocolate. If your daughter is struggling on what to be this Halloween whether she's going to a party or trick or treating, shell be in love with her creepy costume!
Let's begin with our Zombie Cheerleader costumes. Many girls love cheerleaders, and many aspire to be them and now this Halloween they can finally fulfil that dream but with a slight twist. These cute and colourful costumes are zombified so whilst looking all pretty in pink they'll give some a fright! These costumes consist of our coloured cheerleader dresses, some face paint and fake blood to really give you that zombie look and to really have some fun with your little one, why not throw in two matching pom-poms to dance around with all night. These costumes are DIY! So why not make it a fun activity and splatter blood over the dress together? Plus, if you mums out there are looking to go that extra mile when we have matching adult costumes, so you won't miss out!
If your daughter wants to be a zombie this year but doesn't want to be a cheerleader, then do not worry. Why not try a Zombie Prom Queen instead with a spooky dress and a blood-stained sash! If being a cheerleader isn't your child's dream, then being prom queen is! Every girl is excited for their first big day getting all dressed up, so this costume gives them that feeling with just a slight twist.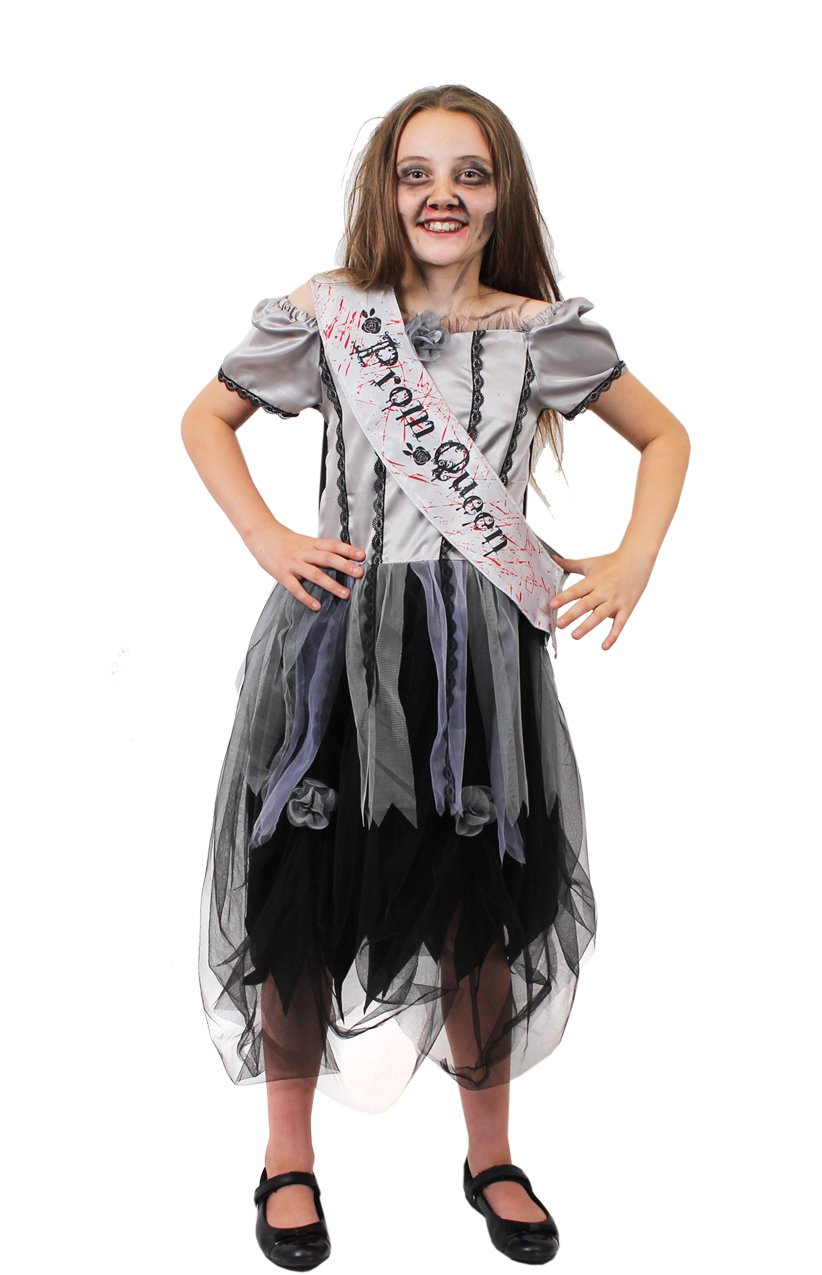 Clowns give many children nightmares. Let's be honest it freaks many of us parents out too, especially after that new IT film that came out last year! Now if your child really wants to give some people a real scare then this Killer Clown costume definitely will! Includes a clown dress and hat, and with the correct makeup, they'll really give themselves a fright!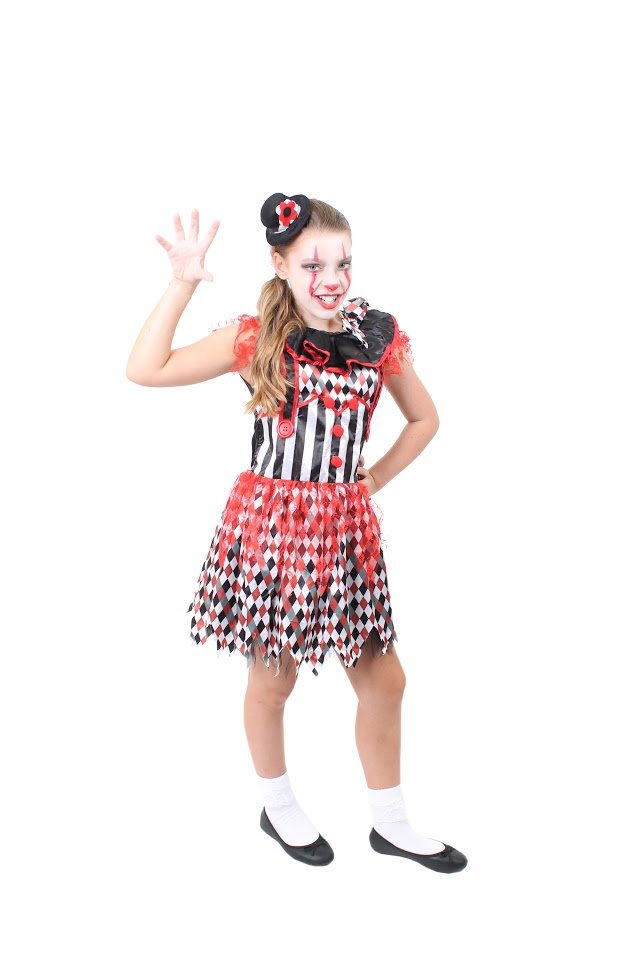 Now we've all seen the horror films with abandoned houses and broken dolls and many know how creepy and eerie they are. If you know exactly what I am talking about, why not become a broken patchwork rag doll this Halloween. It is a simple dress and again with the correct face paints and make up your little one will really give some of your neighbours the chills when she goes asking for sweets!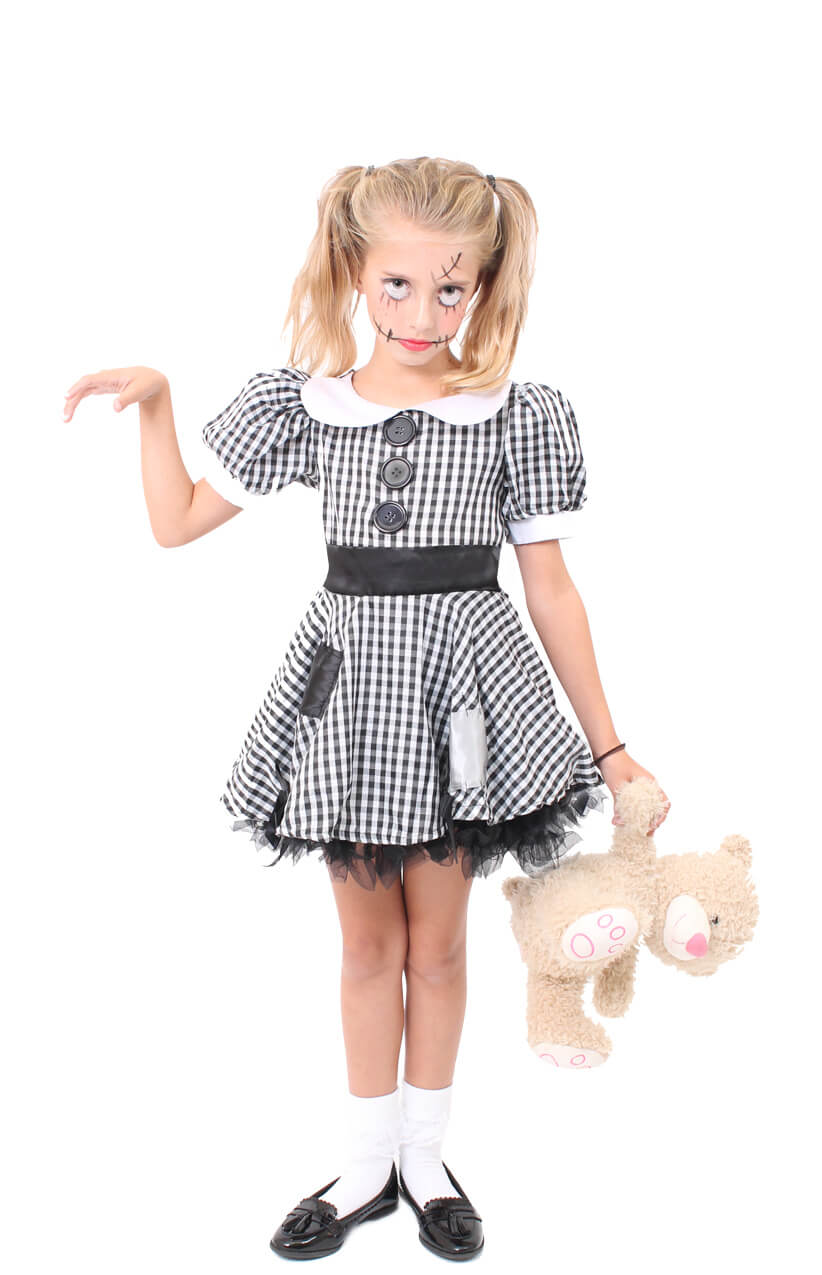 For this top 5 favourite Halloween costumes, I am going to finish off with our most unique costume. If you've got this far and are still undecided on what you want, then take a look at our day of the dead costume for girls! With a cute little dress and a matching mask, it's the perfect way to turn your pretty little princess into a ghoulish queen! Believe it or not, this dress is ideal for Dia de les Muertos as well - so double up on this outfit and use it on the 2nd November too! (If your child has seen the Disney Pixar Film, "Coco" they'll surely want to wear this outfit...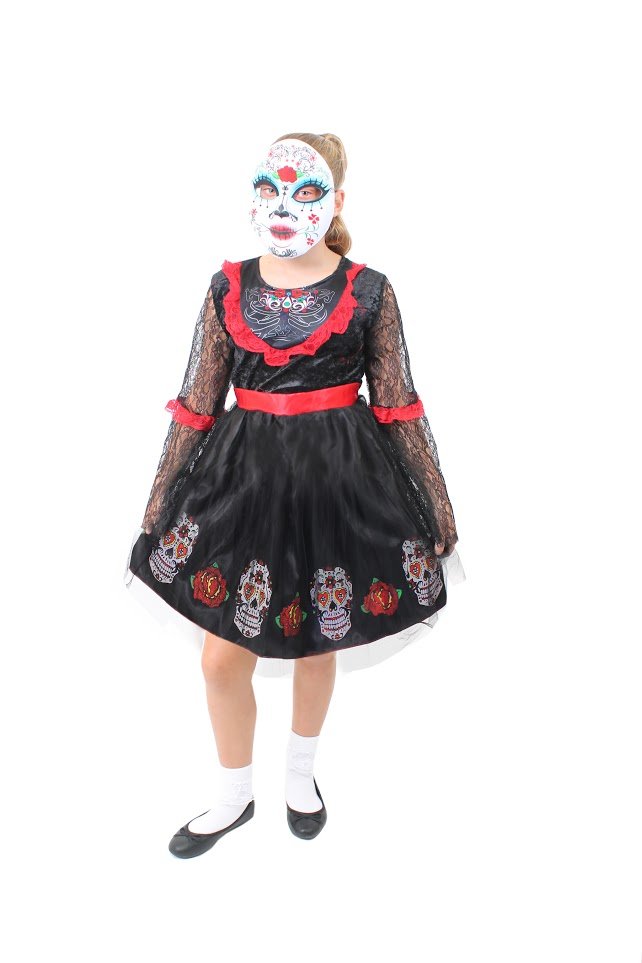 I hope we've helped those that are stuck on what to be this Halloween and if you're still undecided do not worry! Click Here to Check out our website and take a look through our children's category as I am sure there will be something for you! Don't forget to send us photos or tag us on social media so we can what you all look like in our costumes, we would love to see! Have a great Halloween everyone and try not to scare too many people!