Get to Know: Halloween Couples Costumes!
Summer is well and truly over now as sad as that may be to hear to some but there is no need to worry! Over the next few months, we have Oktoberfest, Bonfire Night, Christmas, New year's and especially Halloween! Now as we all know Halloween is quickly approaching and it is always good to be prepared. Whether you have a party planned or just expecting to trick or treat with the kids, dressing up in crazy costumes is always fun! If it's a case of being stuck on what to choose to wear then I'm sure here at I love Fancy Dress, we can help! Everyone knows costumes are great, but Couples Costumes are perfect for all you wanting to celebrate Halloween with your partner in crime! We have a whole range of matching couple costumes that we know you will, and I want to show you just a few that are perfect for Halloween!
Let's begin with our classic Gothic Couples Costume inspired by the famous Addams Family. If you're a fan of Morticia and Gomez, then this is perfect for this year's Halloween! The kids may not know who you are, but you parents certainly will. This recognisable pinstripe black suit and Gothic black dress, you can educate your children on who the real frightening faces are. If you're looking for something a bit more recent, that the children might know, then why not try our James + Rumba Costume. Putting on this iconic Bond suit in his new blockbuster Spectre will ensure you are the most dapper gent wherever you are with the famous Skelton suit you can finally fulfil the dream of becoming Bond! For you ladies, you will get a beautiful red Rumba Dress with a masquerade mask to steal the limelight. However, if you don't feel a bright rumba dress is creepy enough for Halloween, then a matching Skelton dress will definitely do the trick. This cute, off the shoulder dress with some matching stockings and face paint, is a great way to partner up with that awesome bond suit. Whatever you ladies chose you will get everyone at the party talking! Now if you want a costume that people will instantly know whether they're 5 or 75 then chose our Cruella De Ville inspired costume with the classic hair, dalmatian scarf, gloves, black dress and even her famous cigarette holder. Now by her side will be her ideal man in a complete dalmatian suit. Halloween is great because its normal to dress up weird so make the most of it! If you're really looking to give people a scare and love a horror film then try out one of our latest costumes! Try out our Demon Nun costume with the Exorcist Priest from the latest blockbuster 'The Nun'. If you have watched this film, you'll know how horrifically scary it is. Become the wicked demon known as 'Valak' for a night and give your friends and family a fright!
Now if you're not looking for a famous face to partner up with then take a look at our skeleton couple's costume which will be great fun for both you and the kids. For you gents, you'll have to jump into this full skeleton skinsuit whilst you ladies get away with wearing a little tutu dress and matching tights. This matching set is simple but screams Halloween and we are sure you could get a scare or two! If you want something a bit spookier then we have a few corpses bride and groom costumes. For you men, you have it simple, having the same Groom Corpse costume consisting of a complete black traditional suit which looks amazing if you add some fake blood or face paint to really give people the creeps. The bride to this ghoulish groom gets a choice of dresses whether you go with our standard white dress, a deluxe white dress with rips and tears or if you're feeling really dark then go with the black ghost bride being an eerie black dress, all with matching headpieces included. Whatever dress you chose you are going to frighten a few people this Halloween.
Now we've all seen witches and wizards a million times at Halloween, but it never gets old so if you are really stuck and nothing is tickling your fancy then try out our couple's wizard and witches costume and stir up some magic wherever you are.
Zombies are a fan favourite all over the world because they are so simple to dress up as but so cool! Some people chuck on some face paint and tattered clothes whilst others go all out with complete costumes. We love seeing what everyone does each year and this year we have a new range of couple's zombie convicts, so you really can call them your partner in crime. With some fake blood and face paint, it is crazy to see how terrifying you can make our orange convict costume. If you don't want to be a convict, then what about a nurse and doctor. Again, using some fake blood and face paint on this white costume its always going to lead to some fun experimenting with it.
Clowns have always been the nightmares of many and this Halloween you can be certain to give a few people a fright with this couples Killer Clown costume. After 'IT' was bought back to the cinema the nightmares of Pennywise continued with his that horrid look and an even more disturbing voice. Now you and your partner can really give some a scare because what's worse than a spooky clown? Two spooky clowns!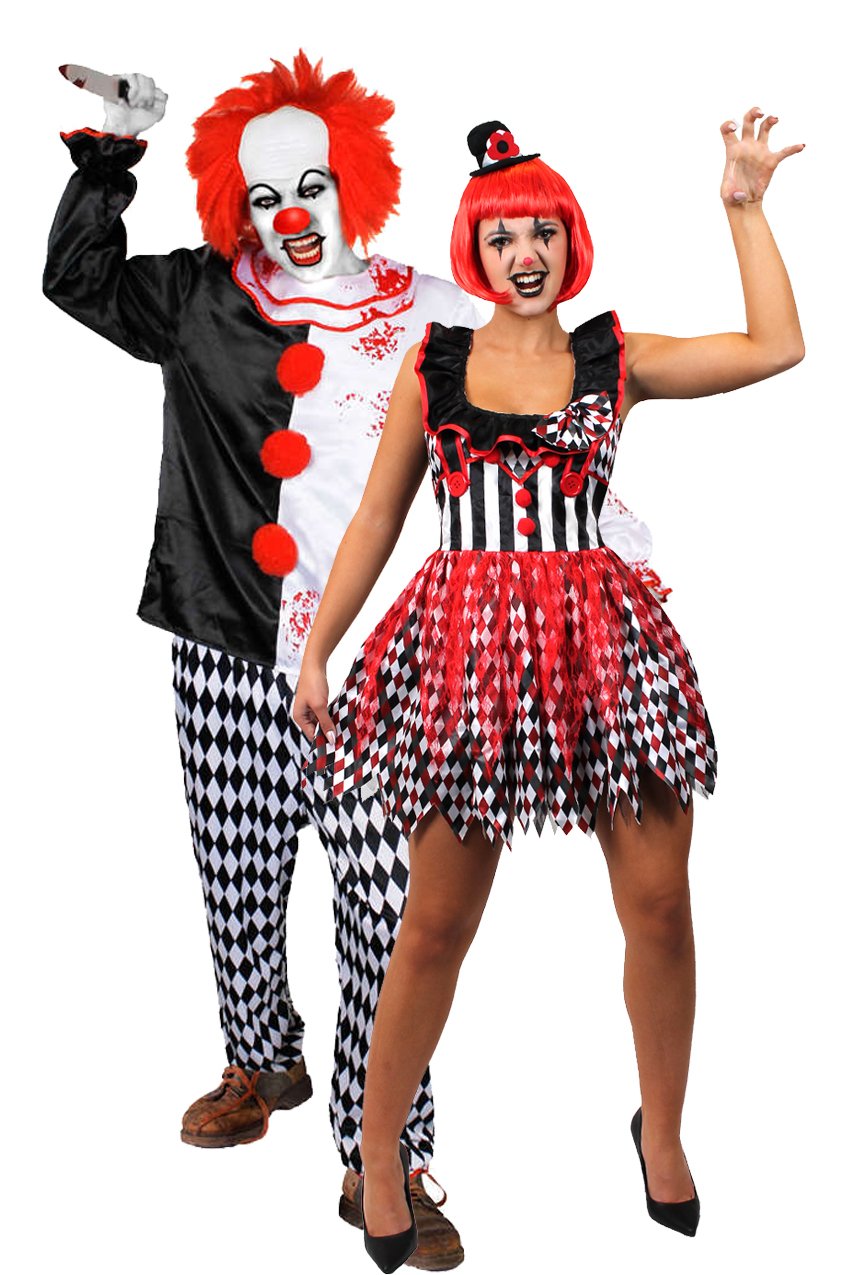 If you've got to this point and are still undecided you might like the idea of one or two things, then don't worry we still have so much more! Our Day of the Dead costume is a favourite and is very similar to the Bond + Rumba Dress as spoke about earlier, the women's dress is the same but for you men, you'll have a very different suit being a pinstripe pattern with a top hat and mask to give you this awesome look for Halloween. Another very different costume is our Sugar Skelton costumes! These are matching Skelton skinsuits with patterns and to finish off the look, a sombrero and cape, red for him and pink for her! If you don't both want to go wearing the same skinsuits then we do offer an alternative as well! Why not try out the same day of the dead skinsuits for you guys out there but for the ladies, they will slide into this skin-tight day of the dead costume looking sexy this Halloween. Whether you decide to partner up in the full skinsuits or go with the dress you'll look fantastic either way with this look that is like no other this Halloween.
Now if you've read all of this and nothing tickles your fancy then Click here to check out our website. We still have a whole range of couple costumes that are not scary but will be a lot of fun whether you're a fan of Rick and Morty, Laurel and Hardy, Harry Potter or even the Beatles we'll have something for you! Whatever you do though don't forget to send us your costumes because we love to see what you all look like! And if you post on any social media don't forget to tag us. Now have fun this Halloween and let's try not scare too many people!