Get to Know: The Apprentice Costumes
If you have been glued to the TV every wednesday night over the past 10 weeks loving this years apprentice then carry on reading! Over the past week we have been so excited to see our costumes on one of our favourite TV show! And did lasts nights episode live up to expectation? Definitely! If you haven't caught up then we don't want to spoil anything for you but prepare yourself for a very eventful and very cringey hour! Our costumes were seen throughout the episode and to make all your lives easier and save you the trouble of finding these festive costumes, we've included them all here for you!
There was various costumes and accessories throughout the show and we if you were interested in any of them we have something to offer. Starting off where it all began was when Sarah Ann went to gather market research and all we can say is there has never before been a more appropriate word on a hat! For only £3.99 this Santa Stuck in a Chimney Hat is a great way to bring some festive cheer to the Christmas table and have a few laughs with the family. Plus you won't have the struggle of having to keep on one of those flimsy paper crowns you get in your Christmas cracker so it's a win all round!
Moving on to that interview we will definitely never forget and maybe not for the best reasons! All we can say is at least they looked very festive whilst they were singing and dancing. Going through each of their costumes we will start off with Daniel. Now he was wearing one of our Unisex Elf Tunics and these are very simple way to dress up this christmas whether you have a party or just want to make this Christmas one to remember and at only £10.99 you'll be having a very merry christmas! They are available in a size to fit everyone starting at Extra Small going all the way up to 4XLarge also being a Unisex costume and having childrens size for girls and boys so the whole family can get involved! Sadly that wasn't our reindeer he was riding but we do have our very own reindeer 'pick me up' costume and it is the perfect match with this elf costume! Daniel finished his amazing outfit off with one of our Plush Elf Hats with Ears and for £3.99 you can't go wrong.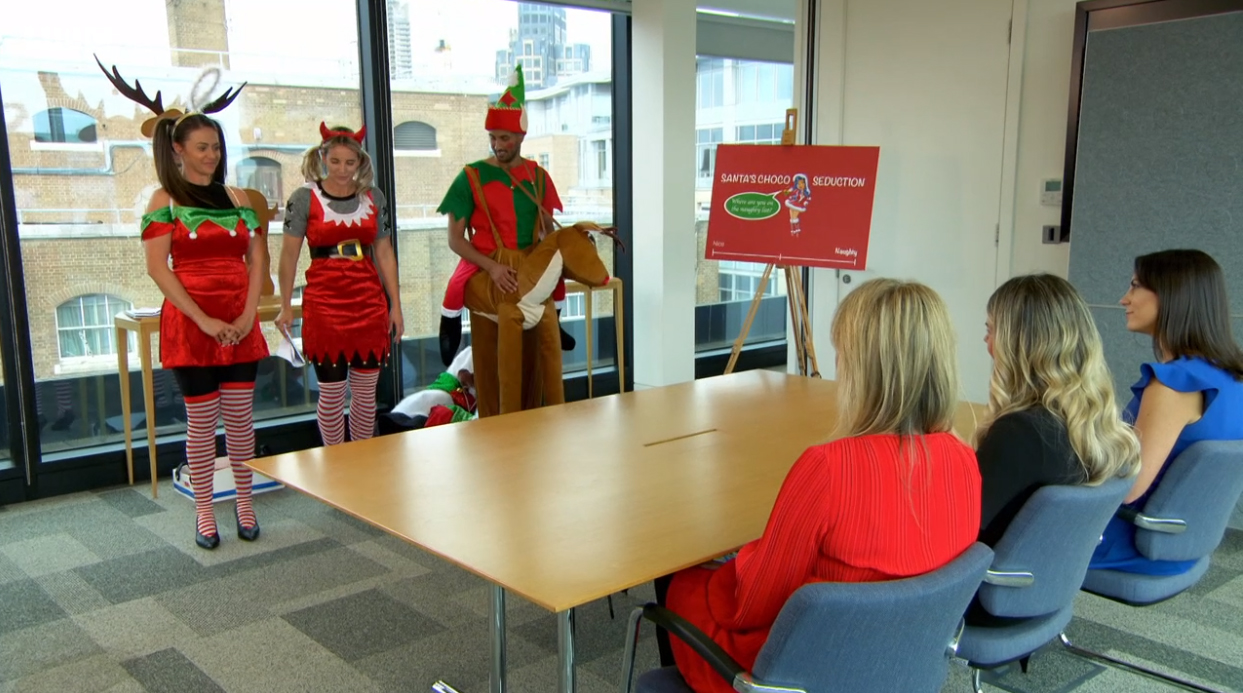 Now moving onto Camillas gorgeous Red Miss Santa Dress for only £9.99 it can be yours with a quality velour feel you'll feel like Mrs. Clause herself this Christmas available in sizes from UK size 6-22 so you can get the perfect fit.
Finally Sarah's cute little Velour Elf Dress again only £9.99 is another great way to get in that festive spirit this Christmas. Wearing any one of these quality costumes you'll be certain to make this christmas one to remember! Again having a whole range of sizes from UK size 4 all the way up to size 22 you can get the size that fits you best!
December 4, 2018
If there is anything you're interest in that hasn't been mentioned then it isn't our brand but I'm sure you can find something similar just click here to head on over to our website and take a look through our Festive Christmas Range and let us know what you think.
Find us through our social media too via –
If you're a parent with a little one taking part in a nativity this year click here for - Kids Nativity Costumes